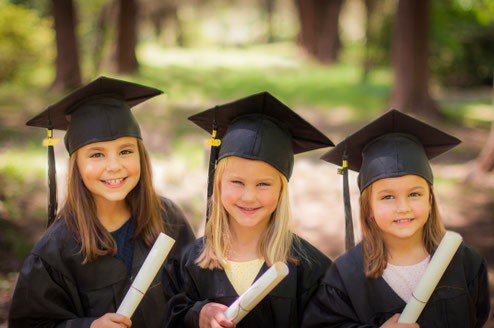 With college tuition costs increasing at 6-7% every year (about twice the rate of inflation), the investment that it will take to send your kids to college is staggering. When Tripp and I went to Ole Miss, the cost was around $3,000 per year for in-state tuition, plus room and board around $6,000. If we had a child old enough to go next year, it would cost over $34,000 per year for tuition, fees, room and board (around $19,000 for in-state total).  But our girls are 8, 6 and 4 so the "sticker price" looking into the future would be…    

Yikes! And that's if we can brainwash them to go…I mean, if they choose to go to Ole Miss. Thank goodness the "sticker price" is not what people end up paying when there are need-based or merit-based scholarships. So if, hypothetically, ours have a 3.0 GPA and make a 28 on the ACT, tuition would go down by about 30%. And since we live in Shelby County and are alumni, if they had a 3.5 GPA, tuition would go down by another 38%. So the total cost (tuition, fees, room and board) for all 4 years and all 3 kids would look more like:

Ahhhh, much less of a heart attack, but still a huge cost. With that large of an investment on the horizon for many Gen Xers, there can be a lot of stress attached to how to pay for it. Our desire is to help you come up with a game plan to pay for all four years of college down to the penny (for all of your children)…without robbing your retirement or letting your kids graduate with too much in student loans.
Further help would be given to figure out any other possible scholarships or grants, direction would be given on filling out the FAFSA and/or CSS Profile, and look into other options like possible tax credits, etc. It's like figuring out a unique puzzle for each individual family.
Before you let your kids start going on college visits, it's important to determine your family's college funding budget for all four years of college. We all know that when you buy a home, the first step is typically working with your bank to get a mortgage pre-approval letter. The bank will only pre-approve a mortgage amount that they are confident you can repay based on your financial resources. College should be no different. The College Pre-Approval™ process ensures students graduate with manageable student-loan debt and know their "budget" before they go "shopping" for schools.
The timeline of the College Pre-Approval™ process during high school is: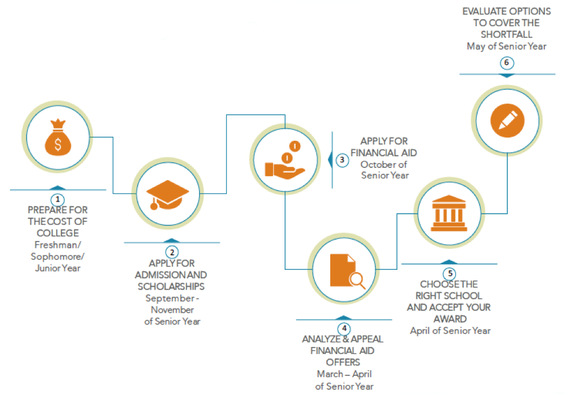 Be an informed consumer and learn how your family can cut the cost of college and get the most financial aid. Our 4-quadrant system helps families identify strategies to get the most free money: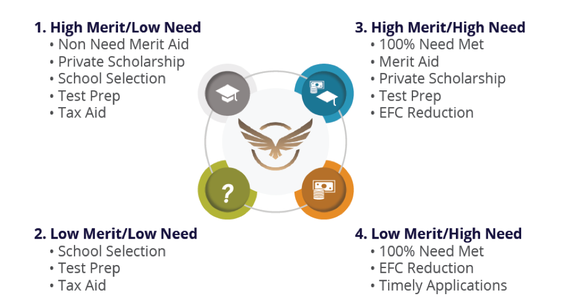 Once you have your pre-approval amount and understand which quadrant you fall into for financial aid, now it's time to cut the cost of college. Leave no stones unturned and don't pay more for college than you absolutely have to.
The most common ways we can help you cut the cost of college are:
Identify strategies to maximize aid eligibility

Explain key differences between the FAFSA & CSS Profile
Determine optimal asset, income, and tax strategies
Advise on distributions from investment accounts
Identify eligible tax credits and deductions
Coordinate contributions from other family members
Evaluate and select the proper loans (added bonus: help your child start building their credit)
Determine how to cover shortfalls
As you can see, the process is much more involved than just us recommending that you save FOR the cost of college through 529 plans. Our desire is to help you do everything possible to save ON the cost of college.
Ideally, we would help you set up their 529 plans when your children are as young as possible and have a disciplined approach to funding those. Then, by the time they are in 8th or 9th grade, we would perform a more in-depth analysis on where the funding stands, what schools they are interested in, what their grades are like, etc. and be able to help families through the entire process.
If you are interested in learning more, please contact us with any questions and sign up here to be notified when we have webinars, seminars or send out content on this subject: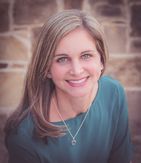 Doty Yates is an advisor at Eaglestrong Financial with an emphasis on college-funding plans and student loan analysis. She can be reached at 901.619.3599 or doty@eaglestrong.com.
Sources:
Eaglestrong Financial was trained in the College Pre-Approval process by Capstone College Partners
Disclaimer
Eaglestrong Financial is a Registered Investment Advisor (RIA) with the state of Tennessee. The information contained herein is not intended to be used as a guide to investing or tax advice. This material presented is provided for educational purposes only and should not be construed as investment advice or an offer or solicitation to buy or sell securities.
#eaglestrong #eaglestrongfinancial