Last week the Dow Jones Industrial Average (composed of 30 large US stocks) crossed 22,000 points, reaching an all-time high. Headlines in the news and alerts on CNBC shared this milestone. No doubt, it is something to celebrate as the stock market presses on and the economy is improving. However, I have learned over the years that the stock market only makes the headlines during extremes. Furthermore, the market has hit all-time highs repeatedly over the course of its history. If the past is any indication of the future, it will continue to do so. Already, well-known investment scholar Jeremy Siegel has predicted we could see the Dow reach 30,000 in the early 2020s. He may be right, but no one knows exactly. What is clear to me is that it is best to tune out the news and focus on the long-term. Our human nature is not mapped that way, but if we understand why focusing on the long-term is important, it becomes easier to do. What got my attention more last week than the all-time high was this tweet below: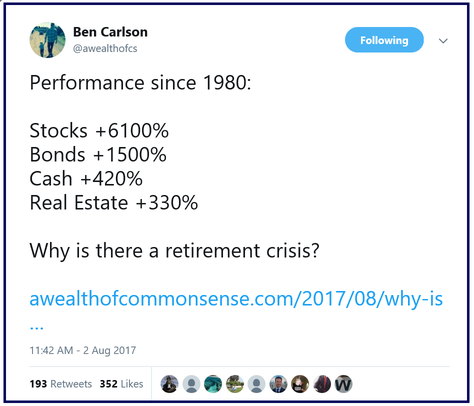 The part that got my attention was the performance since 1980. The "Why is there a retirement crisis?" section would be a different story to discuss. You can read Ben Carlson's article here for more insight. It is a great read.
I am 36 years old (born in 1981) so this period of performance is basically my lifetime + 1 year. I was fascinated by these numbers. To make the performance more real, I will translate into dollars.
$10,000 invested in each of these financial asset classes in 1980 and left invested the entire time (including reinvesting dividends) would translate into these dollar amounts today:

This includes the financial crisis of 2008. When I see this, it is so clear why we invest and take diversified risk. By no means does this indicate what will happen over the next 30 years, but it helps to see a historical picture (below) of the market through ups and downs since 1926.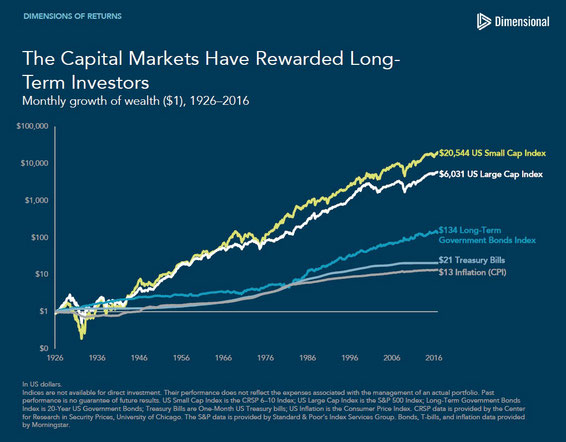 Remember you are investing for the long-term when we have a pullback in the market. It will come, and no one can predict whether that is within the next year or 5 years. Every prognosticator has a 50% chance of being right, but you are better off tuning out the noise and focusing on the long-term.
Our goal at Eaglestrong is to guide, inspire, and educate our clients to be financially wise.
www.eaglestrong.com
References:
-http://awealthofcommonsense.com/2017/08/why-is-there-a-retirement-crisis/
-https://www.youtube.com/watch?v=6Yc6XWw0kTc
Disclaimer
Eaglestrong Financial is a Registered Investment Advisor (RIA) with the state of Tennessee. The information contained herein is not intended to be used as a guide to investing or tax advice. This material presented is provided for educational purposes only and should not be construed as investment advice or an offer or solicitation to buy or sell securities.
#eaglestrong #eaglestrongfinancial