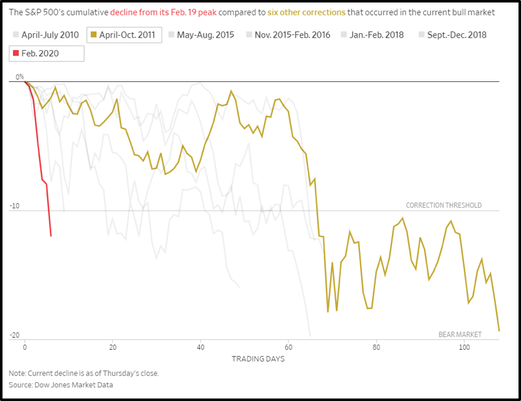 Last week, the uncertainty surrounding the impact of the coronavirus struck the financial markets. Starting on Thursday, February 20th, through the end of day Friday, February 28th, the U.S. (S&P 500) and World (MSCI World) stock market indices have seen declines of 12.7% and 11.5% respectively. The S&P 500 recorded its fastest correction ever (decline of 10%) from an all-time-high over six trading days. You will read that headline along with many others to provoke fear. For example, let's take a look at one misleading headline. While the Dow Jones Industrial Average suffered its worst point drop in history on Thursday, February 27th, it was the 125th worst from a percentage perspective which is what is relevant to the actual impact to investors.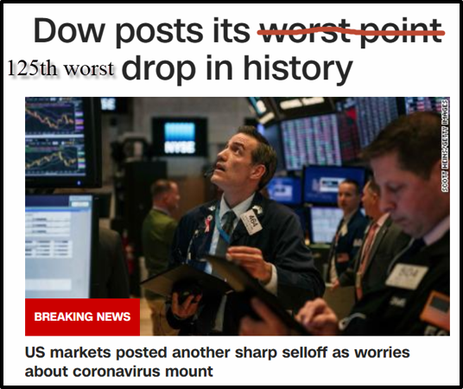 While not minimizing the frustration and anxiety that market downturns cause, I want to share facts and perspective that will give you clarity.
The spread of the coronavirus will most likely lower profits of businesses in the first half of this year which will lead to slower growth in the economy. The bigger question is how much of an impact and how long will this go on. That is what markets are reacting to right now. No one has an answer yet. While every event-driven situation is different, I do think looking back at them provides context to situations where uncertainty existed in the short-term much like today.
The S&P 500 fell 12% the week after U.S. officials reopened markets for trading following the September 11th attacks in 2001.


During the SARS (severe acute respiratory syndrome) outbreak in 2003, stocks fell as much as 13%. Other viruses had less impact on the stock market.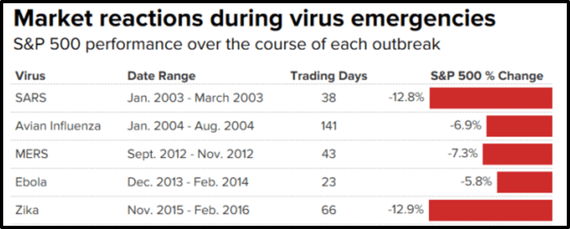 In each of these cases, the market recovered as more confidence was gained in the global economy and the worst fears were avoided.
It may be hard to believe given the low volatility in the markets in both 2017 and 2019 but, on average, the U.S. stock market declines 13.8% from top to bottom every year (see red dots in the chart below). Corrections and market declines are to be expected. Even still, the U.S. stock market produced positive calendar year returns 75% of the time over the last 40 years (see gray bars in the chart below). With the swift correction last week, we are sitting close to the average annual yearly decline.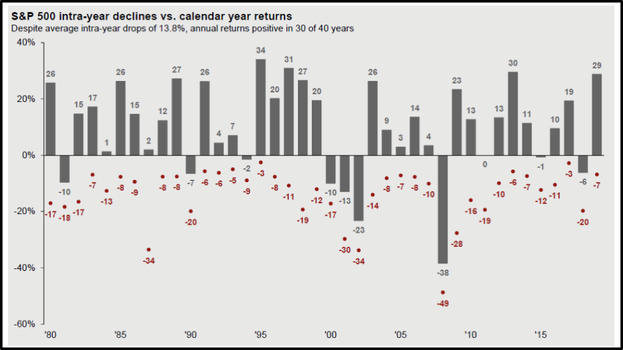 I've often said the market is similar to taking five steps forward and two steps back. This is generally how the market works. There are anomalies like the 2008 financial crisis. To understand where we are after the pullback last week, the S&P 500 ended the week at 2954.22. The index was 2952.01 on October 4, 2019. Basically, we are back to where the market was in October of last year (5 months ago). For long-term investors, that is a short period of time.
Declines are expected; the speed of the current one last week is what is unusual. However, there are no rules for the market to follow as to the speed on the way up or down. In order to capture long-term market returns, we have to endure downturns that come in different forms.
Just as a reminder, the market is always climbing a wall of worry. The chart below looks back at all the reasons to sell going back to March 2009.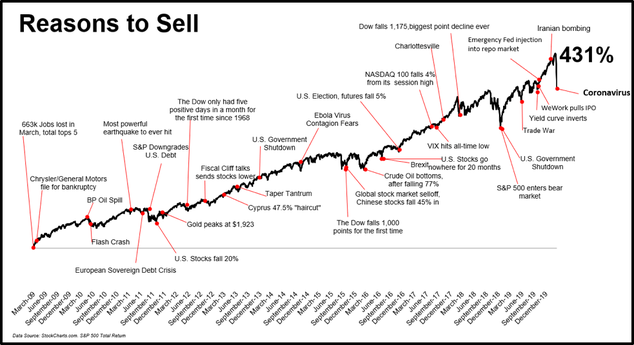 Whether you are a retiree, middle-aged investor, or young person just starting to invest, stay focused on your goals. Your allocation to stocks, bonds and cash is determined in order to achieve a long-term rate of return. Those allocations account for corrections like we experienced last week but put more emphasis on the expected long-term rate of return which is what ultimately creates and preserves wealth.
Sometimes a simple image can bring clarity. I believe the one below from Behavior Gap puts the last week in perspective.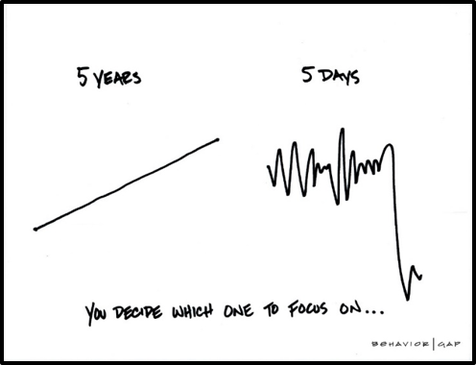 While no one knows how long the virus impact will last or if we will see further downturn in the stock market, rest assured it will pass. Our goal is to help you tune out the noise and look beyond the headlines. I encourage you to watch and listen to the short two-minute video below. As another advisor put it on twitter this past week, "don't bet against human grit and ingenuity in the long run." We couldn't agree more.
If you would like to discuss or learn more, schedule a call or meeting with me using the link below: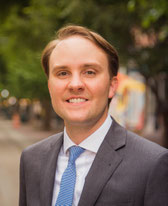 Tripp Yates, CPA/PFS, CFP®
901.413.8659  tripp@eaglestrong.com
Tripp's passion for financial planning is evident to each and every client he meets with. His desire is to help his clients organize their finances, reduce taxes, and invest wisely. As a fee-only fiduciary advisor, Tripp strives to work in a humble and transparent way.
With extensive experience in financial planning and investment management, Tripp diligently uses his credentials of CPA and CFP® to benefit his clients. Over the last ten years, he has managed over $100 million in assets for individuals and families. In 2017, he founded Eaglestrong Financial, specializing in helping dentists and business owners. Outside of work, Tripp enjoys running, spending time with his family, and cheering on his favorite sports teams. He is an active member of Harvest Church.