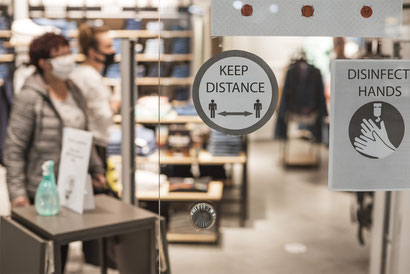 In the third quarter, the overall market and economic rebound continued. While the recovery has slowed since the late spring and summer, that is to be expected as we get further along in the cycle of coming out of the pandemic. For the 3rd quarter1, stocks advanced across the board: (+9%) US, (+5%) US small companies, (+5%) International Developed, and (+10%) Emerging Markets. The US total bond market was positive as well (+1%).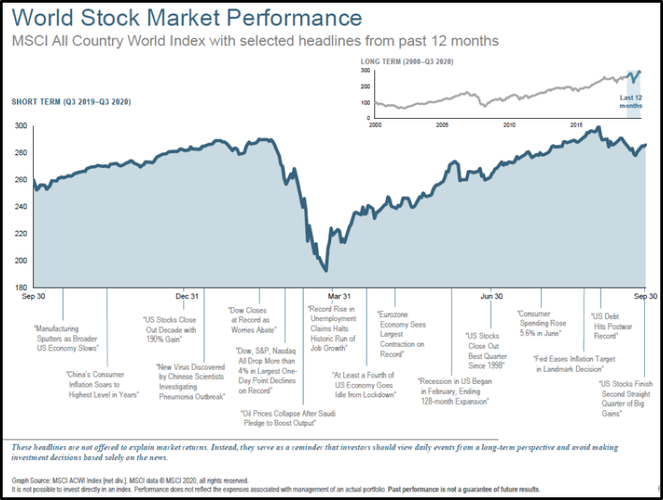 While the overall US stock market has recovered, the pandemic economy has created the haves and have nots across businesses and sectors. US large growth stocks, which are heavily weighted with technology companies, have risen to all-time highs (+24%) while small company stocks remain in negative territory (-9%) year-to-date1. Businesses such as airlines and restaurants are struggling while large online-based companies are thriving. This is logical given the nature of lock downs and social distancing. As we emerge from the pandemic in the coming months, we should see more convergence in the rebound across all businesses.
Although the pandemic has led to the closure of many businesses across the country, a recent encouraging sign is that Americans are starting new businesses at the fastest rate in more than a decade. New business applications filed by likely employers peaked in August but is still well above all years going back to 2006.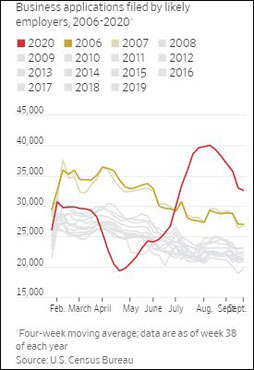 Not all of these new businesses will survive and thrive, but the application volume increase is a positive sign, and I would expect surprises of creativity and ingenuity in some of these new business owners.
All-time low interest rates have likely contributed to the growth in new business applications allowing owners to borrow money at a low cost. Additionally, low rates have created an opportunity for new and existing home owners. We have seen the incredible financial benefit of refinancing a 30-year mortgage at 4% to a 15-year mortgage at 2%. Reducing the rate and term on a loan with a slight increase in the monthly payment can be huge for those who plan to stay in their home for the foreseeable future.
The U.S. presidential election is now less than a month away. Our president and first lady have tested positive for the coronavirus. There is no shortage of daily evolving political news. Many believe election results may not be determined for days or weeks following election day. I understand that we are seeing things in the 2020 election that we have not seen before. However, over history, the market advanced in most occasions no matter the political party in control.
Whatever the outcome, people and businesses will adapt as we have seen in the past. That is why we continully underscore focusing on your long-term goals and tuning out the short-term headlines. 2020 will cetainly be an important topic for history books. As we carry on the final chapter in the last three months of this year, we look forward to continued recovery.
If you would like to discuss or learn more, schedule a call or meeting with me using the link below: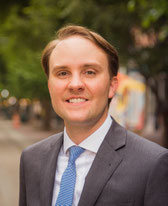 Tripp Yates, CPA/PFS, CFP®
901.413.8659  tripp@eaglestrong.com
Tripp's passion for financial planning is evident to each and every client he meets with. His desire is to help his clients organize their finances, reduce taxes, and invest wisely. As a fee-only fiduciary advisor, Tripp strives to work in a humble and transparent way.
With extensive experience in financial planning and investment management, Tripp diligently uses his credentials of CPA and CFP® to benefit his clients. Over the last ten years, he has managed over $100 million in assets for individuals and families. In 2017, he founded Eaglestrong Financial, specializing in helping dentists and business owners. Outside of work, Tripp enjoys running, spending time with his family, and cheering on his favorite sports teams. He is an active member of Harvest Church.