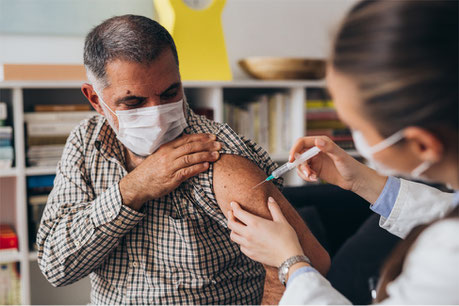 A year after the global pandemic started in the United States, the economy is likely to fully recover in the spring and summer months just ahead. Unprecedented government stimulus, widely available vaccines, low interest rates, and warmer weather are a few of the reasons. While different variants of the virus still pose a threat, continual increases in vaccinations and herd immunity are on the horizon. A full circle recovery and surge in the US economy in the coming months during the 2nd quarter of this year is highly probable.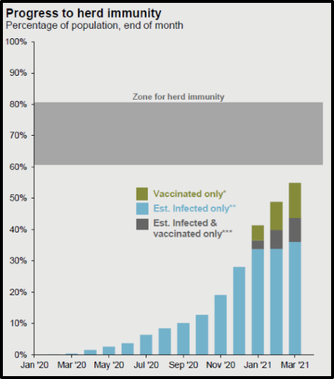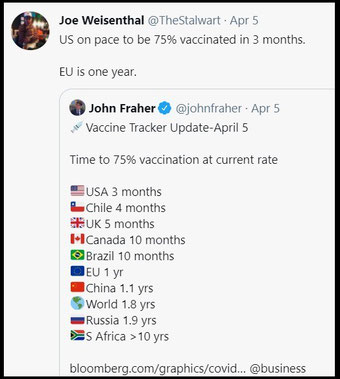 A Look Back
For the 1st quarter1, stocks advanced across the board: (+6%) US, (+13%) US small companies, (+4%) International Developed, and (+2%) Emerging Markets. The US total bond market declined (-3%) due to rising interest rates.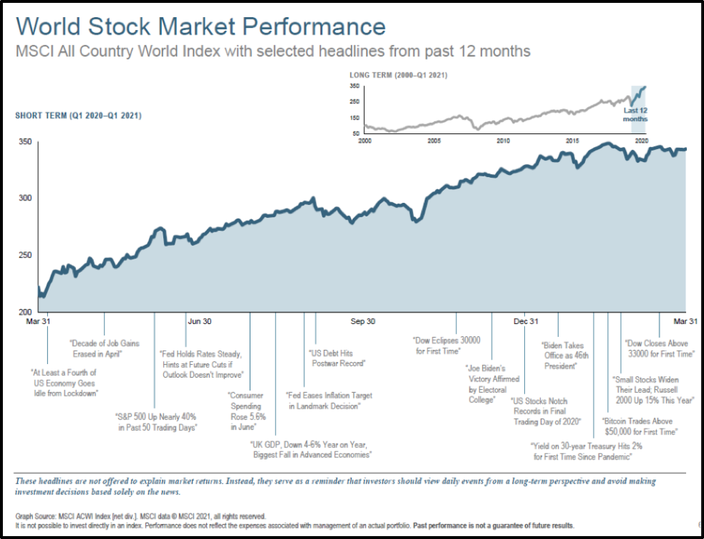 Flood of Cash
Many households are flush with cash due to the government stimulus measures enacted over the last year. There is belief that the savings rate in the US will jump back to 30% this month with the latest stimulus direct payments to Americans. This savings rate usually averages between 6-8%. It jumped above 30% in April 2020 due to the initial government stimulus. Most recently, the savings rate has been around 14%, which is still elevated. Some of the cash has been used to pay down debts which has led to healthier finances for many. The ratio of household debt payments to disposable income is at its lowest point since the 1980s. Additionally, there is more stimulus coming for families with young children below a certain income threshold that I believe will be a surprise to many. Besides direct payments to Americans, The American Rescue Plan Act of 2021 increased the maximum Child Tax Credit available per child (age 17 and under) from $2,000 to $3,000 per qualifying child. Further, if the child is under the age of 6 on 12/31/2021, then the credit increases even higher to $3,600. To receive the full Child Tax Credit increase, adjusted gross income must be at or below: $150,000 (Joint Filers), $112,500 (Head of Household), or $75,000 (Single Filers). The most interesting part of this Child Tax Credit increase (and likely the surprise for many families) is that ½ of the entire Child Tax Credit for those who qualify can be paid in advance monthly July to December of 2021. For example, that means that a married couple with two young children age 6 or under and income of $150,000 or less will get $600 per month ($3,600 each child * 50% = $1,800 / 6 months = $300 per child per month) starting this July and ending in December. Disney World, Dollywood, and Six Flags are sure to benefit!
Speculation & Gambling Abound
The flood of cash has been helpful to many Americans but it has also driven speculative investments. Much of the news headlines over the last three months has been given to story stocks such as GameStop and AMC Entertainment. Additionally, the rise of digital assets such as Bitcoin have appreciated massively and gained wider attention. Even baseball cards and other collectibles are selling for unbelievable prices. This will likely continue in the short-term because of the flood of cash. But, make no mistake about it, each of these investments is much different than fundamental investing in stocks and bonds of companies with promising cash flows and earnings. GameStop and AMC were both stocks that were being shorted (investors earn money when the stock price goes down) by hedge funds. This public information enticed a group on the Reddit message board to invest in these stocks to push the price up in order to punish the hedge funds. It worked for a few days but those stocks are down close to 50% from their highs in late January because these companies did not have a positive growth outlook. Those stock prices will probably continue to be volatile in the short-term. In the end, retail investors will most likely be hurt the most. I'm sure other similar situations will follow. At the end of the day, these short-term investors were and are gambling. None of these investments are needed to achieve your long-term financial goals. It is often said that trying to pull higher investment returns forward can lead to disappointment and doom. We wholeheartedly advise against speculation, but for those who can't resist, just make sure it is a very small portion of your assets that you can afford to lose permanently.
Interest Rates
The economic recovery caused interest rates to rise over the last three months. The 10-year treasury yield climbed from 0.93% at the end of last year to 1.74% at the end of the March. Rates will likely continue to rise but level off at some point in 2021. Some have argued that we will see interest rates come down later this year. Regardless, bonds will continue to serve their purpose for investors but with more muted or negative returns in the short-term as rates rise. Longer-term, the rise in interest rates will be welcomed by bond investors in order to achieve a higher yield. Further, bonds will remain a ballast during periods of pullbacks in the stock market. 
Tax Increases Proposed
Most recently, President Biden outlined his plan for more government spending on infrastructure along with tax increases on corporations and Americans with income above $400,000 (married couples, likely $200,000 for single filers). It remains to be seen when this proposal will go to Congress but we are keeping an eye on it. Tax policy has and will change many times over our lifetimes. That is why we stress building tax diversification between the account types that you have for retirement savings. We have control over asset location but not over tax policies.
While we are not completely out of the pandemic, it is exciting thinking about travel, family, friends and things returning to normal. There will always be current news, disappointments, and worries to write about, but take time to reflect on how far we have come over the last year. I know I have and am grateful. Full circle is within sight!
If you would like to discuss or learn more, schedule a call or meeting with me using the link below: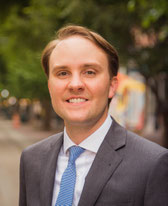 Tripp Yates, CPA/PFS, CFP®
901.413.8659  tripp@eaglestrong.com
Tripp's passion for financial planning is evident to each and every client he meets with. His desire is to help his clients organize their finances, reduce taxes, and invest wisely. As a fee-only fiduciary advisor, Tripp strives to work in a humble and transparent way.
With extensive experience in financial planning and investment management, Tripp diligently uses his credentials of CPA and CFP® to benefit his clients. Over the last ten years, he has managed over $100 million in assets for individuals and families. In 2017, he founded Eaglestrong Financial, specializing in helping dentists and business owners. Outside of work, Tripp enjoys running, spending time with his family, and cheering on his favorite sports teams. He is an active member of Harvest Church.