The amount, access and speed of information evolve daily with advancements in technology. Because you are constantly overwhelmed with information, it takes discipline to focus on things that matter and let go of things of less importance. Why would you waste your limited time on things that you can't change or control?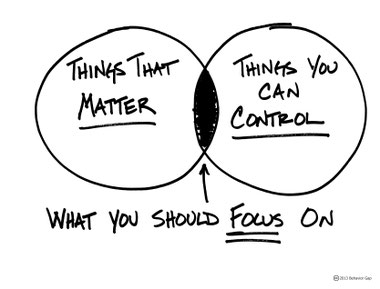 At Eaglestrong, we help our clients focus on things that matter and things that they can control. We don't pretend to know the short-term direction of the stock market, but we can make sure our clients understand how much risk they take to reach their goals. We invest with a long-term view. Everyone has passions; it could be your family, your career, your church, your community, or any combination of these.
We give proactive advice to ensure that you are making progress to fuel your passions. We will create a specific financial plan and structure your portfolio to meet your needs.
A Vanguard study in 2014 revealed that financial advisors may add an additional 3% of value annually in net portfolio returns over time with guidance in areas such as portfolio construction, asset location, and accountability to stick with the financial plan. Additionally, the study emphasized using an investment philosophy similar to the one we have adopted. Our investment philosophy is simple: diversify broadly, reduce underlying investment expenses as well as excessive trading, and minimize taxes. We view investments as a tool to reach your goals. We believe having a healthy awareness of your current financial situation combined with a plan to reach your goals while working with a financial advisor sets you up to achieve success.
One example of a strategy that you can control is which type of accounts to use to save for retirement. For instance, let's assume you are self-employed with no employees. You have been making the maximum contributions each year to a SEP IRA based on your income.  What if you utilized a Solo 401(k) instead? This change in the type of account would allow more flexibility and possibly increase the amount of pre-tax contributions allowed. (SEP IRA vs Solo 401k)
Are you ready for us to help you focus on what you can control? Do you have a sound financial plan and strategy?
Our goal at Eaglestrong is to guide, inspire, and educate our clients to be financially wise.  If you would like to hear more or start a conversation with us, call us at 901-413-8659 or email tripp@eaglestrong.com.
References:
*Vanguard: The Added Value of Financial Advisors 07.2014
**Illustration above obtained from Behavior Gap
Disclaimer
Eaglestrong Financial is a Registered Investment Advisor (RIA) with the state of Tennessee. The information contained herein is not intended to be used as a guide to investing or tax advice. This material presented is provided for educational purposes only and should not be construed as investment advice or an offer or solicitation to buy or sell securities.